'You will never need Lane Assist more than when trying to deactivate Lane Assist in a Volkswagen ID.3'
The issue with VW's ID.3 isn't that it's an EV, says Jethro. It's something else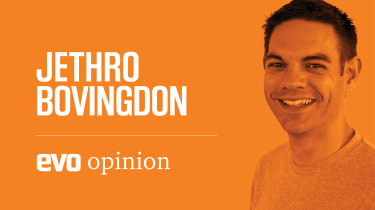 It's very difficult to review an EV in the pages of evo. The assumption is that we have too much baggage and are clinging on so intently to things such as naturally aspirated engines and manual gearboxes that we could never, ever say positive things about an EV. Never mind that my colleague Adam Towler really enjoyed the Tesla Model 3 Performance and we've enjoyed the Porsche Taycan, too.
Anyway, it was with my many years of glorious internal-combustion-engine baggage that today I greeted the arrival of a Volkswagen ID.3 for a short loan. It looks okay. Wheel at each corner; nice detailing and Makena Turquoise finish hiding a relatively generic hatchback shape. The spec and packaging is intriguing, too: low centre of gravity, electric motor at the rear driving the rear wheels through a direct-drive single-speed gearbox, plus multi-link rear suspension and, of course, lots of lovely and instantly available torque. 
'My' ID.3 is a pretty fancy one. An Edition Pro Power 58kWh 204PS, it has a WLTP range of 260 miles. It costs from £38,190. That's nearly £5000 more than the new Golf GTI. It also weighs 1730kg. That's 376kg heavier than the new Golf GTI. Oh god, that baggage isn't so easily ejected. Deep breath. Let's put these things to one side and just drive…
> Volkswagen Golf GTI 2020 review – eight generations new, the GTI still has the goods
It's cold. Really cold. And despite a fully charged battery the range reads 170 miles. Hmmm. The interior feels either modern and fresh or like a mini version of the inside of one of those annoying digital marketing companies where everyone rollerskates between break-out areas, depending on your point of view. I quite like it but the materials feel very budget for a VW.
But all of this means nothing, for there is a bigger issue, one that makes the ID.3 impossible to recommend. Ladies and gents, I give you the Discover Pro Navigation system with 10-inch touchscreen, App-Connect, Natural Voice Control and loads of other stuff THAT DOESN'T WORK.
The frustration starts immediately. It's cold, like I said. So I hit the touchscreen icon for the heated seats. Nothing. Tap again and the menu opens up but the next tap doesn't fire up the heaters. So I hit it again. And then again. Ugh. Nada. And then, suddenly, the system wakes up and actions my increasingly forceful finger jabs. The lag means I've inadvertently cycled through from the maximum setting to the minimum. I start the process again whilst selecting reverse – which opens the rear-view camera on the central screen, meaning I can no longer see my heated seat setting. Nor turn up the heater or change the radio station or anything else that might be useful before I reverse out of the driveway. 
Once on the move these concerns start to melt away and I can begin to experience the ID.3 as, y'know, an actual car. But wait, what's this? Oh no. Lane Assist. Must. Turn. Off. Lane. Assist. But how? I'm doing 30mph and the ID.3 has 19-inch wheels. The road isn't particularly bad, but diverting my eyes to find the Assist menu, then opening the required submenu whilst trying to keep my hand steady enough to accurately operate the touchscreen, is trickier than nailing the right line through the Craner Curves in heavy fog. You will never need Lane Assist more than when trying to deactivate Lane Assist in an ID.3. 
If the touchscreen functioned as perfectly as an iPhone, perhaps things would be better. It doesn't. Not even close. However, even if it was that good, the simple act of changing the temperature or bringing up a map would still require an unacceptable amount of attention and dexterity. We know this because you're not allowed to operate your phone whilst driving. Too dangerous. Buttons and dials work. You can operate them without even glancing away from the road. That's why F1 steering wheels feature buttons and rotary switches. Manufacturers are selling us the dream of the future whilst actively making their cars more complex to use and, in my opinion, more dangerous to drive.
Of course, this isn't unique to the ID.3 and it's unfair to single it out. The entire VW empire is getting a version of this touchscreen system and other manufacturers are rushing down the same path. It's funny, the mainstream motoring media has always said, 'Just wait until real manufacturers start building EVs. They'll show Tesla. They know how to make cars that actually work.' As it turns out, that was bullshit. Much of that accrued knowledge is being gleefully abandoned. 
The car itself? Pretty good and loads of potential. With the rear-drive arrangement an ID.3 GTI could be a barrel of laughs. But you can't turn off the ESP. Or maybe you can but by the time you've been through 37 submenus to do so you'll have already crashed. This is evo. We're old fashioned. We want to crash gloriously, not because we can't find the bloody heated rear screen control.