What to buy before your next track day
A look at some essential purchases before you put your car through its paces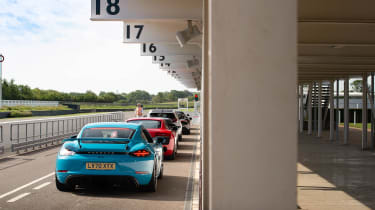 Advertisement feature from

Track days are one of the best ways to test your car's performance capabilities, sharpen up your driving skills, and meet like-minded petrol heads to share tips and driving stories. They're very much back on the agenda for 2022 after a stop-start couple of years, with multiple evo events running from May to September should you want to get tickets.
But what are some of the products you should consider buying before putting your car through its paces? If you're looking for tools, accessories and suitable clothing, then eBay has a growing range of products to choose from, including showrooms for many household-name brands. Here are some track day essentials you may want to pick up before you hit the tarmac this year.
Assembling an outfit
Any attendees, both drivers and passengers, will need to wear a helmet when on the track. Closed face helmets are a requirement if your vehicle is open top, but open face helmets are permitted if the roof of the car is up or on.
You can usually hire a helmet on the day (and evo track days offer this free of charge), but regular track drivers may feel more comfortable wearing their own. Sparco has a top-of-the-line choice in the Air Pro RF-5W, while its Club X1 is a more affordable option. The Stilo ST5F N Composite helmet is also well worth a look if your budget can stretch.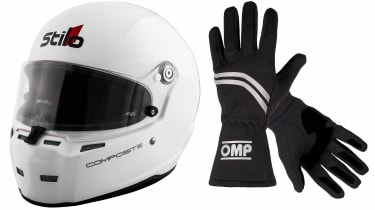 It's also worth remembering that sleeveless tops or shorts are not permitted, so a race suit will ensure your arms and legs are covered. A good pair of gloves are a must, like these options from OMP, and driving shoes will give you the grip you need for seamless braking and acceleration.
Bringing the right tools
Even if you don't need tools yourself on the day, it's always handy to bring a selection along to help others out should they encounter any issues. A portable tool set like this from Black & Decker should take care of the basics, but if you're likely to be doing more complex work then a socket set with the correct sockets and wrenches will make sure you get the job done.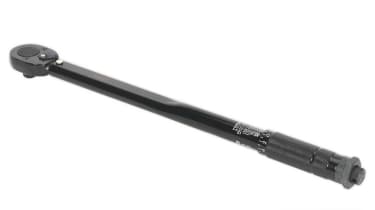 The latter will be needed if you're changing brake pads, and you should think about investing in new pads before any track event. These need to be in top condition, both for your own safety and the car's performance – eBay has plenty of brake pad options to choose from.
A good torque wrench is also a necessity for checking and tightening bolts, screws and nuts. The Sealey AK624B is a good option here. Plus, you'll want a jack and jack stands in case you need to tinker under the car; this Sealey lifting kit comes with everything required.
Taking care of tyres
Making sure you have the correct tyre pressure is key to unlocking your car's performance on the day. This means that you should bring a tyre inflator along, and the Ring RTC6000 benefits from a large digital display showing the pressure and battery state, plus a 70cm hose length. Any inflator can also be used if you need to quickly inflate your tyres for the drive home.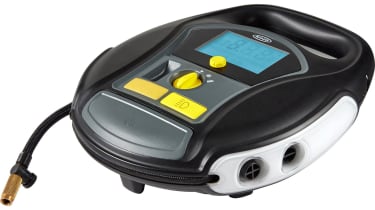 For a quick tyre check, a pressure gauge is an essential purchase. Ring has a good option here, too, with the RTG4, a compact device that easily fits in a glovebox, door pocket, or even on a bunch of keys. Its backlight and torch make it easy to see in low light and they stay on once activated.
Oils and fluids
If you drive on tracks often, you'll want to keep your car topped up with oil to ensure the engine keeps ticking over. The eBay motoring store has plenty of vehicle engine oils to choose from, including well-known brands such as Castrol, Mobil and Shell. Your car will be testing its limits much more than usual on a track day, so you should check coolant and brake fluid before you set off. You'll also want to make sure you're buying the right kind of brake fluid to maximise performance – Castrol React SRF Racing fluid, for example, is used in competitive motorsport and formulated for extreme braking conditions.
In terms of other fluids to bring on the day, it's worth thinking about some repellent to help rain and surface water run quickly off the windscreen. Rain-X has a dual-purpose cleaner and repellent spray for such a job – particularly useful if rain is forecast and you want to maximise visibility.
GoPro camera and mount
Handheld cameras aren't allowed on track days, but fixed cameras are usually fine (check with the event organiser beforehand just to be sure). GoPro is the gold standard here; its cameras are durable, lightweight and the latest devices record in crystal-clear UHD quality.
The GoPro HERO10 Black is the top choice, capturing 5.3K video at 60 frames per second, 4K video at 120 frames per second and 2.7K video at 240 frames per second. Pair it with a GoPro subscription and you'll also get unlimited cloud backup and automatic video uploading, too.
Though it's easy to attach a GoPros to a helmet, headrest or dashboard, the best place for it is probably on the windscreen. This suction mount is compatible with the GoPro HERO range and will provide the stability you need to capture great on-track footage.
Visit eBay to buy tools, accessories and gear for your next track day