Next generation Goodyear Eagle F1 Asymmetric 6 tyre range revealed
Goodyear's new high performance tyre range to sit below Eagle F1 Supersports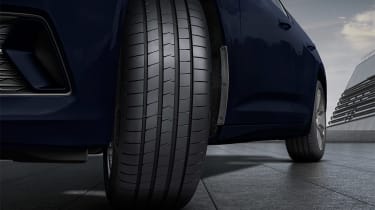 Goodyear has announced its latest generation of ultra high performance tyre that will sit below its ultra ultra high performance Eagle F1 Supersport range, and rival Pirelli's evergreen P Zero and Michelin Pilot Sport. The new all-rounder has been developed to strike a balance between offering consistent performance in wet and dry conditions, while introducing new technology to increase outright grip without compromising on rolling resistance. 
This starts with new adaptive contact patch technology, which passively increases the size of the tyre's contact patch when under load, giving it more grip under hard cornering. Changes to the resin used in its compound also increase the contact between rubber and tarmac at a material level, without negative effects on rolling resistance and high wear rates.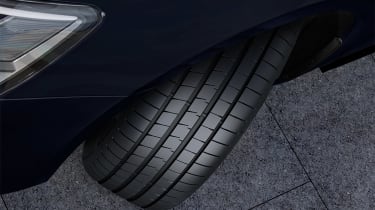 The Eagle F1 Asymmetric 6 is designed to work across a variety of different car types, including hot hatchbacks, luxury saloons and compact sports cars, leaving the wilder sports, super sports and supercar sizes for its Eagle F1 Supersport range. 
Goodyear has also designed its new Asymmetric 6 to suit most new generation EVs, and the specific deliverables of their generally higher weight figures and sharper torque delivery. 
A limited range of 28 sizes in 17- and 18-inch sizes will be available from launch in the first quarter of this year, with 19-inch sizes joining later in 2022. By 2023, the full range will open up to include a total of 65 different sizes between 17- and 22-inch sizes by 2023, appearing as OEM equipment