'I've discovered that a love of old tractors is a guilty pleasure concealed by lots of car people'
Meaden's looking forward to life in the slow lane with his next purchase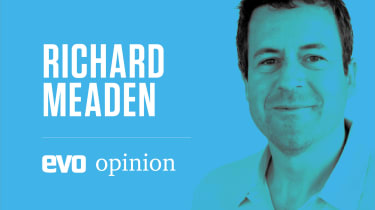 I've been surfing the classifieds again. 'What's new?!' I hear you cry. And you'd be right. Rare old air-cooled Porsches, barn-find Lamborghinis, a few old Fords. Even some classic British kit from the '50s and '60s. All have come under my watchful gaze. The only difference is that instead of hunting for sports cars I can neither afford nor need, I've been searching for something I actually need and can afford: a tractor.
No, I haven't lost my mind. And no, you won't be seeing Dickie's Farm battling Clarkson's Farm and Harry's Farm on Amazon and YouTube. Watching me tending to a couple of acres of grass paddock is unlikely to be TV gold, although as beer tends to be a component of gardening and property maintenance at Meaden Towers I might be selling the spectacle short.  
The reason for the imminent tractor purchase is horsepower of a different kind. Namely Mrs M's two horses, which have dedicated their existence to eating/destroying the aforementioned paddocks, gates, fencing, bordering trees and most of our disposable income. Still, to give the nags their due, horse ownership might be one of life's great ball-aches, but they are providing me with the perfect justification for buying a cool old tractor. A purchase, I might add, that comes with the full and enthusiastic endorsement of Mrs M. I've even caught her watching a livestream from a Cheffins agricultural auction.
> 'You will never need Lane Assist more than when trying to deactivate Lane Assist in a Volkswagen ID.3'
For a decidedly un-farmy individual such as myself, the learning curve has been steep. In fact it's been quite a challenge, but I've been amazed to discover that a love of old tractors is a guilty pleasure concealed by lots of car people I thought I knew well. Ask them their view on the Lewis v Max crash and they give a non-committal shrug, but quiz them on grey Fergies and Fordson Dextas and their eyes light up. Clearly farm machinery is the petrolhead's dark web.
This is something of a role reversal for me, as I'm usually the person people come to for answers. Amusingly, just as I try to steer them away from buying something they'll regret, only for them to ignore me and buy that PT Cruiser Convertible they've always wanted, so I listen to tractorists telling me I should buy a boxy 1970s Massey Ferguson 135, or perhaps even a modern Kubota. I humour them, but we both know I'll end up buying a curvy 1960s MF 35X, or maybe a David Brown 770 Selectamatic. Not because they're going to be more reliable or better suited to our needs, but because either could be a character from a Pixar movie and would look cute peeping out of the tractor shed.
I've also come to realise that the classic tractor market is the classic car market in microcosm. Prices are going up rapidly –doubtless thanks to saps like me buying the 'wrong' tractors for too much money – and the term 'investment tractor' is commonplace in the pages of my new favourite magazine, Classic Tractor. I might have missed the boat with S1 Elises, but I'll be damned if I'm going to watch old Fergies chug inexorably beyond reach. 
The great cliché is the collector's garage packed with priceless air-cooled 911s and £40k-worth of pristine, bright red, late-'50s Porsche-Diesel Super tractor, but I'd be lying if I said I didn't like the idea of having one to park next to my 964. It's the same reason I've been toying with the idea of buying a 1959 David Brown because it's the closest I'll ever come to owning a DB4 GT Aston Martin. Much like ManMaths® the dangers of TractorLogic™ are not to be underestimated.  
I'm sure anyone with real agricultural work to do must regard people like me lusting after unsuitable, overpriced tractors I don't even know how to operate with the same bemusement we reserve for the auction bidder who blew £60,000 on a 1985 Escort RS Turbo.  
Not that I need any justification for plunging headlong into tractor ownership, but it also occurred to me that an old tractor could in all likelihood become the last bastion of true analogue driving, and perhaps internal combustion too. OK, so you have to make sure your old crate comes with a V5C document that means it's registered for the road, but as a bonus this means it probably carries a cool old reg number just like a period Aston or Jag racer. 
With as many as three levers controlling a dozen or so forward gears, these old tractors surely take some skill and mechanical sympathy to master, but given you'll require a favourable gradient and following wind to breach 15mph I'm guessing there's plenty of time to hone your technique. 
The faster modern cars become, the more I like the idea of pressing the slo-mo button every once in a while. It might not be your idea of The Thrill of Driving, but putt-putt-putting along a country lane without a care in the world sounds pretty good to me.