'General Motors is a company that made a 7.5-litre V8 front-wheel drive coupe'
GM has built some quite brilliantly bonkers cars over the years, says Porter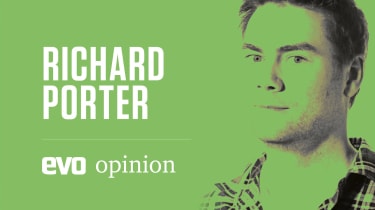 In 1970 General Motors announced a new compact model for North America and decided the best way to ship each one from its Ohio factory was to stand it vertically on its nose. To make this mad system work, the car, called the Chevrolet Vega, had to be built with removable sockets on its chassis so it could be bolted to ramps that folded down from the sides of each specially modified Southern Pacific railcar. Once the cars were in place, the ramps would be raised up to the vertical position, sealing brand new Vegas inside, roof-to-roof with their grilles to the ground. To avoid disaster, every Vega had an extra baffle in the sump, a bespoke carburettor and battery, and a windscreen washer bottle mounted at 45 degrees so the cars wouldn't piddle a cocktail of fluids as they clack-clacked cross country with their tails to the air.
The Vega itself was a disaster for GM but the shipping system was actually quite inspired, allowing the company to cram 30 cars into a carriage that could normally take 18, thereby saving a massive amount on shipping. Nonetheless, GM didn't repeat the vertical transport idea for any other model, leaving it as a curious footnote in history and a vivid demonstration of something I've believed for a while now: General Motors is batshit crazy. 
This is a company that made the Oldsmobile Toronado, a 7.5-litre V8 coupe that was front-wheel drive. This is also the company that came up with a radical, steel-framed, plastic-skinned, two-seat urban 'commuter car' for the '80s, and if you're imagining something like a Smart ForTwo you're way off because this was the mid-engined Pontiac Fiero. Everywhere you look in GM's history, buried beneath the milky sedans and oafish trucks, you'll find these moments of insane lateral thinking that somehow made it to production. 
> Chevrolet Corvette C8 convertible 2021 review – American icon driven in EU-specification
There was the Chevrolet Corvair of 1960, a cheap, rear-engined compact that somehow had a brand new all-aluminium flat-six. The EV1, a showroom-ready electric car launched in 1996 when no other manufacturer dared to offer such a thing. The GMC Yukon XUV, a large SUV with an electrically retractable roof over the boot to make carrying tall loads easier. The Chevrolet Impala SS, a murdered-out, 5.7-litre V8 steroid injection into a Floridian grandma's Caprice cruiser. Or the 2004 Chevy SSR, which was a retro-styled pickup truck with a folding metal hard-top. A convertible pickup. Well, quite. And this is just the stuff they signed off. Imagine all the nuttiness that didn't escape from the Michigan tech centre. Stuff like 'Quiet Sentinel', an early 2000s attempt to replace all of the car's minor controls with voice activation. All of them. Right down to the indicators. Using early 2000s voice recognition technology. Ah-huh. This was headed for production until newly arrived product development boss Bob Lutz took a prototype for a short drive on the road. Quiet Sentinel was cancelled the next day. It was too crackers, even for GM.
Which brings me to one of GM's more rational recent moments: pulling out of Europe. In 2017 the American mothership decided to cut its losses and jettison Vauxhall/Opel into the arms of Peugeot (which in turn merged with Fiat Chrysler to form Stellantis, thereby realising a common goal of being a corporation that sounds like a Belgian techno collective). On the one hand, a sensible ploy given GM hasn't made money in Europe since the last century. On the other, a cowardly move that means the world's one-time largest vehicle manufacturer has no presence in a region that still accounts for over 20 per cent of all global car sales. 
The real reason to be sad about the company's Euro exit, however, is because under General Motors' long-time stewardship, Vauxhall and Opel were occasionally infested by that good ol' GM craziness. They signed off the Lotus Carlton, for flip's sake. And almost replaced it with an Omega powered by a Corvette engine (evo 282). They put suicide doors on an otherwise unremarkable small MPV, they imported V8 Holdens from Australia just for the delight of 17 British torque enthusiasts, they thought the best way to jazz up a tedious rep slogger was to give it a 276bhp V6 the front wheels were in no way equipped to handle, and they spent most of the '80s displaying an unmatched dedication to bright yellow LCD instruments and velour upholstery so thick you could lose a bicycle in it. 
There's no car-making megacorp with such a profound personality split as General Motors, endlessly turning out room- temperature rental car dross yet with a sense that at any minute it could announce a car with side-wheel drive or Magic Eye instruments or a nitrous-injected V7. And that's why it's a shame that GM has scarpered from Europe. Yes, it made a lot of dull cars, but you never knew what it might have got up to next.