When we raced, and lost, against Alistair McRae – evo Archive
An evo race debut and a mischievous McRae made for an indelible weekend at Brands Hatch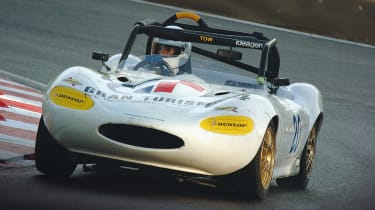 Enrico Tocaccelo was definitely later on the brakes than Khalil Beschir, and it wasn't totally unreasonable for him to try to slide his car up the inside into Paddock Hill Bend. Equally, the Lebanese driver was still definitely a long way ahead and had every right to hold his line, so it should probably go down as a racing accident. But what an accident. 
Beschir's right rear tangled with Tocaccelo's front left and neatly launched the white single-seater into a spectacular airborne barrel roll down through the famous Brands Hatch corner, coming to rest upside down in the gravel trap. Right in front of my mother. 
She wasn't really there in 2005 with 80,000 others to watch the A1 GP race on its inaugural weekend. She was there with one other person (my father) to, rather reluctantly, show support for her son in his first ever race weekend. I was racing a Ginetta G20 (issue 091) and my mother was, as mothers are wont to be, concerned for my safety and had thus far been somewhat backward in giving her blessing to my first motorsport foray. She hadn't attended the Saturday (thereby missing my own, less dramatic spin through Paddock Hill) but had steeled herself to spectate on the Sunday for the second race.
You can imagine, therefore, my wrath at Beschir and Tocaccelo as I watched them tangle and tumble. This was not the tonic to sooth an already fretful maternal soul. Seeing the marshals scamper across the gravel to the stricken cars, I gently suggested that my mother might like to take a look at the beautiful autumnal reds and golds of the deciduous trees behind us. So pretty at this September time of year… 
The other thing I remember that weekend for was (no, not my valiant 23rd-place finish in a wet race two) Alister McRae. There were two guest cars in the Ginetta championship; I was in the white Sony Gran Turismo car and McRae was in the black and yellow Dunlop car (something that his Wikipedia entry curiously fails to record). Because we were worrying different ends of the grid, I didn't see much of him at the circuit. However, as he had flown down and been taxied to the circuit, he was without wheels to get to the hotel on Saturday night, so at the end of the day I was drafted in as his rather star-stuck and nervous chauffeur. 
I had driven to Kent in my brand new long-termer, a white Mk5 Golf GTI of which I was rightly very proud. McRae instantly clocked its optional 19-inch Monza wheels. If there has ever been a more kerbable set of alloys I've yet to see them and the Scot was of the same opinion. He therefore thought it was hilarious to reach across from the passenger seat and just tweak the steering wheel to the left whenever we were going along a narrow street. 
'Careful of those wheels!' he would say accusingly as I reeled from another near miss between metal and masonry. If I protested, he would simply point out that no one back in the office would believe the wholly improbable story of Alister McRae making me kerb my wheels. You probably don't believe me now, but it happened. Honest.