BMW buys Alpina as electrification looms
Alpina name acquired by BMW and tuning specialist joins in-house portfolio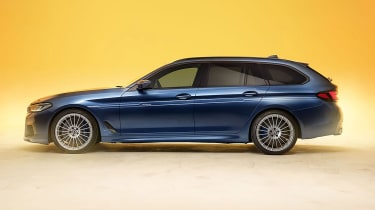 BMW has acquired the trademark to Alpina, the automotive performance specialist that has spent the last six decades designing, developing, manufacturing and selling its discerning BMW performance models for those who think BMW's M products are a little OTT. 
From 31 December 2025 Alpina production will finish when the current cooperation agreement between the two companies comes to end, leaving BMW solely responsible for any future Alpina badge models, in whatever guise these might take; BMW has yet to expand on its plans for the brand within its portfolio. 
In a statement BMW said: 'The transformation towards electromobility and increasing regulation worldwide – particularly emissions legislation, software validation and requirements for driver assistance and monitoring systems – result in significantly higher risks for small-series manufacturers. The management of ALPINA Burkard Bovensiepen GmbH + Co. KG is addressing this with a strategic realignment that will secure the long-term viability of the Buchloe operations.'
> New BMW i7 saloon – official prototype pictures of the electric 7-series
Alpina's co-Managing Director, Andreas Bovensiepen added: 'We made a conscious decision not to sell Alpina to just any manufacturer, because BMW and Alpina have worked together and trusted one another for decades. That is why it is the right decision strategically for the Alpina brand to be managed by the BMW Group in the future.'
This suggests the Bovensiepen family who still control Alpina have accepted that forthcoming legislation is too big - and costly - a hurdle for it to climb. Alpina makes in the region of 1500 cars a year and employs 300 people, the latter BMW has said will be offered positions to stay with the company from 2026 onwards. 
The Alpina name will live on within BMW's portfolio, and the service, parts and accessories for current and previous models will continue to be operated from the firm's current Buchole headquarters. The current development services will also be expanded at the site to support BMW's plans for the brand. 
For the future the Bovensiepen family will continue to operate in the automotive sector, delivering 'convincing mobile solutions' and the family's successful wine business will continue unaffected.