'A two-spoke steering wheel makes sense in a sports car: it gives you more places to wrap your fingers'
The revival of the two-spoke steering wheel is welcomed by Porter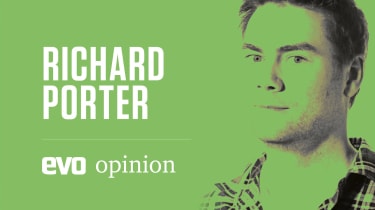 Of all the unspoken rules around cars, one of the simplest concerns the number of spokes on your steering wheel: three means 'sporty', four means 'luxury', five means the head of interior design has been smoking his weed vape round the back of the studio viewing yard again. A single spoke was largely the preserve of Citroën and came with the challenge of making the wheel strong enough to work, though it was the need to package an airbag and various wheel-mounted controls that eventually killed it off.
Which leaves the two-spoke wheel, traditionally used to suggest ordinariness. Throughout the 1980s and '90s a two-spoke steering wheel in a car was a way of saying you're at the basic end of the model range, loser. But I've just checked and 2021's cheapest new car, the Dacia Sandero, comes with a 'luxury' four-spoke wheel, while there's a three-spoker in all the tiny and/or tinny stuff like Ups, C1s and i10s. You might assume the two-spoke wheel is as dead as most of the Metros and Novas that had one. But no. The two-spoke wheel is back, baby.
Leading the return was that vanguard of innovation, the Mercedes S-class, which sported a proud double-spoker in its last incarnation. Disappointingly, the new model has retreated to a triple-spoke arrangement, as has the latest Kia Picanto, which previously had a bravely basic twin-spar arrangement. But such changes of heart don't matter because these cars have set the (twin-spoked) wheels in motion and now loads of other makers are at it. The new Hyundai Ioniq 5 electric car has a two-spoke wheel, as does its Kia EV6 sister. The BMW i3 has been in the double-spoke club since it arrived, and now the Fiat 500e has joined in too, while Audi is making a move towards the dual-spoke action judging by the wheel in its new Grand Sphere concept.
> Mercedes S-class review – the 'best car in the world' just got better
It's not just electric cars, though. The latest models from Hyundai's posh offshoot, Genesis, have a weirdly pillowy dual-spoker, while Skoda put a two-spoke wheel in the latest Octavia and recently dropped the same design into the new Fabia, as well it might when the company says this new wheel alone took three years to develop. Which is an interesting point about steering wheels: they need a lot of time and money to see through to production, what with all the careful consideration over wheel diameter, rim thickness and where you put all the buttons and switches (unless you're McLaren, in which case the answer is 'somewhere else'). Plus, they've got to meet safety regs and provide an effective home for an airbag. No wonder designs tend to be shared across multiple models and across different generations of the same car. It's dangerously expensive if every six years you're trying to reinvent the wheel.
Why the swelling shift back towards two spokes now? Doubtless there are advances in metallurgy and production techniques that have made it possible to get the strength required from a modern wheel using only two spokes, and this possibility has given interior designers more freedom. But an actual car designer told me there's another possible reason behind the return of the two-spoke wheel: for a younger generation now populating car design studios around the world, the two-spoke wheel isn't 'basic', it's 'retro' and therefore interesting. Which might be why it's coming back.
That's all well and good, you say, but the two-spoke wheel has no place in the kind of cars evo has most interest in. Ahem, I reply, while standing two metres away because no one likes a cougher these days, that's not strictly true. Have you seen the wheel in the Alfa 4C? Or the one in the new mid-engined Corvette? A pair apiece and not a spoke more.
Conditioned as we are to think that three spokes means sporty, this might seem inauthentic and wrong, but I'm not sure, because the other day I was standing next to a very early DeTomaso Pantera, a winsomely pretty car before it was plastered with the stick-on arches and wings that made it reminiscent of sweaty-jumpsuit-era Elvis, and I discovered that original Panteras have a two-spoke wheel that looks absolutely brilliant. In many ways a two-spoker makes sense in a sports car. It's simple, it's effective and it gives you more places to wrap your fingers. I can see it now: Ferraris with elegant, Momo Mod.02- inspired wheels. Porsches paying homage to the near-as-dammit two-spoke wheel its cars had 40 years ago. McLaren taking its clean, minimalist interior aesthetic to new heights with a proud pair of spokes either side of a simple centre boss.
The two-spoke steering wheel is back and I for one welcome its return. Unlike the three-spoke alloy, which must never happen again because it's awful.